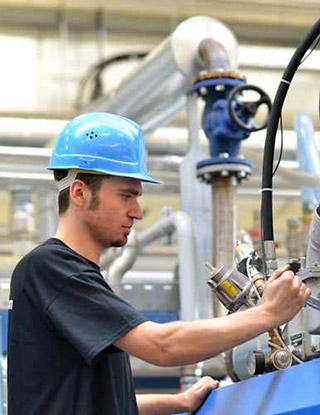 In accordance with § 4 of the workplace ordinance, indoor ventilation systems must be regularly serviced.
ArbStättV § 4, section 3 stipulates that:
"…indoor ventilation systems must be serviced by qualified staff at regular intervals and must be tested for their functionability"
In the event of non-adherence to this clause:
ArbStättV § 9, section 2 will apply:
"Anybody endangering life or health of staff members by an intentional act as defined in section 1 will be subject to penal prosecution in accordance with § 26 no. 2 of the workplace ordinance."
We conduct these services not only for MOTEC®filter systems; our maintenance services are also available for third-party brands.

We conduct maintenance services to indoor ventilation systems in compliance with § 4 workplace ordinance. Such maintenance encompasses:
TESTING
ADJUSTING
EXCHANGING
REPLACING
LUBRICATING
PRESERVING
CLEANING
FUNCTION TESTS
If so agreed, all required spare parts and additional work will be settled on a time&material basis.

If you have any questions, simply contact our service organization.