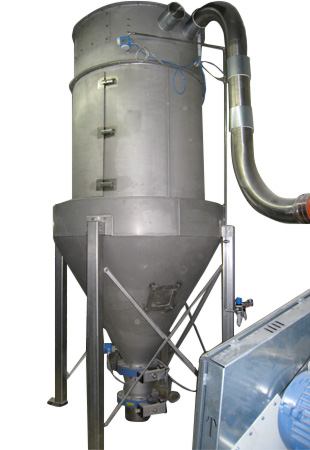 Central dust vacuuming systems are an excellent option for staff members to keep their workstation clean by themselves without any great effort and subsequently to reduce the actual emission concentrations in their work environment.
An ejector may be used to attach small-sized applications to installed suction and filter systems.
For more expansive systems, self-contained central units are an appropriate solution. Standard vacuuming outlets with plug-type hoses and unsupported expansion suction arms as well as machine vacuuming ports specified to customer designs may be connected to the conduits.
As a principle rule, each single system installation is adapted to meet the on-site conditions and requirements.
Advantages of the MOTEC dust vacuuming systems:
MODULAR AND STAGGERED CONDUITS WITH COLLARLESS CONNECTIONS
CENTRAL FILTER SYSTEM WITH INTEGRATED CYCLONE
INDIVIDUALLY DESIGNED AND BUILT CENTRAL FILTER SYSTEM
NON-ARCING DESIGN OF SYSTEM COMPONENTS
FORCE-CONTROLLED FLUSHING VALVES PREVENT CONDUIT FROM CLOGGING
CONTROLS SET AS REQUIRED BY CUSTOMER (SIMULTANEITY MONITORING, PRIORITIES)
EXPANSION SUCTION ARMS WITH UP TO EIGHT METERS REACH
AND 360° EFFECTIVE CIRCUMFERENCE
Benefit to customers:
PRODUCTION INCREASES DUE TO SHORTER DOWNTIMES, BECAUSE CLEAN MACHINES HAVE A SIGNIFICANTLY LONGER SERVICE LIFE AND OPERATE AT A MORE CONSISTENT QUALITY LEVEL
FINANCIAL BENEFITS DUE TO LOWER MAINTENANCE AND CLEANING COSTS DUE TO LESS CONTAMINATION AT THE PRODUCTION EQUIPMENT
REDUCTION OF POTENTIAL EX-ZONES BY MINIMIZING DESPOSITS AT THE PRODUCTION EQUIPMENT; THIS GENERATES CONSIDERABLE COST ADVANTAGES DUE TO POSSIBLE USE OF NON-ATEX-CERTIFIED APPLIANCES
SIGNIFICANT REDUCTION OF DUST POLLUTION DUE TO CLEAN WORKSITES AND EQUIPMENT COMPONENTS
USING EXPANSION SUCTION ARMES REDUCES NUMBER OF SUCTION PORTS
Schematic depiction of a central suction unit:
1 Expansion suction arms in various finishes and sizes with pneumatic shut-off units for flexible and uncomplicated cleaning of production areas
2 Permanent vacuum ports with pneumatic shut-off units.
3 Collarless hi-grade steel conduit system
4 Force-controlled flushing valve for automatic cleaning of vacuum master pipe after suction cycle.
5 Integrated cyclone for pre-separation in central filter of dust suction unit.
6 Automated dust discharge at aspiration filter system.
7 Individual controlling including automatic filter cleaning after each suction cycle.
8 Dust discharge e.g. in BigBag via sequenced port.